Founded by Alfredo Gulla in 1962, Larchmont Chrysler Jeep Dodge has been a family-owned dealership that has been dedicated to serving the Larchmont, NY area for 50 great years. Gulla first immigrated to New York as a young adult in late 1956 from Catanzaro, Italy. It was then when he was able to find work at a small import auto dealership in Larchmont, NY. Five years later that very dealership went for sale and Gulla took the opportunity to turn it into a dream of his own. He spent the next decades dedicating his life to selling Italian cars to the people of New York. To Gulla, these cars were more than just a piece of metal; they were Italian heritage and history.
Surviving through the decrease of Italian Cars in the U.S., Alfredo Gulla continued to pursue his passion for cars and opened what is now Larchmont Chrysler Jeep Dodge Ram in the 1980s. Through this duration of service, Larchmont Chrysler Jeep Dodge has been presented with numerous awards and has become a Five Star Chrysler and Dodge and Truck and Jeep Dealership. Till this day, Alfredo Gulla remains loyal to his passion and works day in and out for his love of cars.
It is with this very passion that Larchmont Chrysler Jeep Dodge Ram lives and thrives on. Larchmont Chrysler Jeep Dodge Ram has been committed to setting the curve for customer experience and has built a strong reputation to receive the highest recognition from Daimler Chrysler Motors corporation for excellence in customer service. Ran by family, treated like family. Larchmont Chrysler Jeep Dodge Ram is the trusted auto dealership in New York. 


Larchmont Chrysler Jeep Dodge receives 25-Year Award!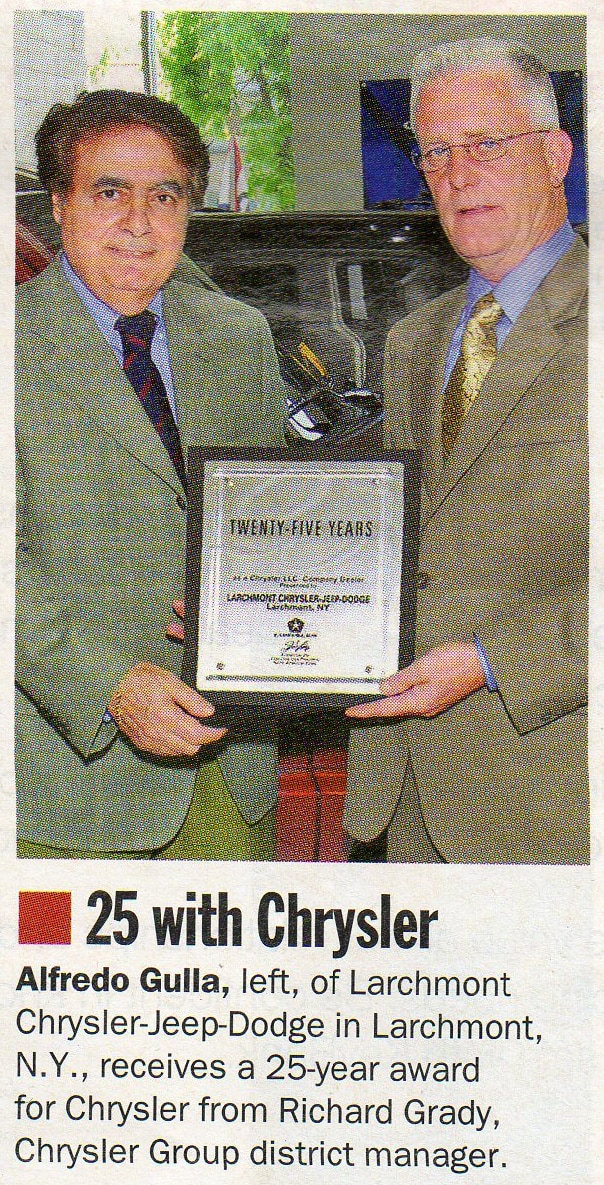 THE JOURNAL NEWS                                                                                                Sunday, October 31, 2004
Larchmont Chrysler Jeep Dodge unveils the all-new Jeep selection
BY CHELLE CORDERO
LARCHMONT, NY - Eleanor Gulla , General Manager of Larchmont Chrysler Jeep Dodge, hosted an invitation only premier party for the unveiling of the 2005 Jeep family line. Along with food and drinks, the invited guests viewed the new 2005 Jeeps, featuring their Flagship model, the all-new redesigned 2005 Jeep Grand Cherokee Limited. A test drive was also encouraged to the invited guests to experience the all-new, best in its class, 5.7 Liter, 330 horsepower, V8 Hemi engine. The Gulla family has been a fixture on the Larchmont automotive scene for over 40 years.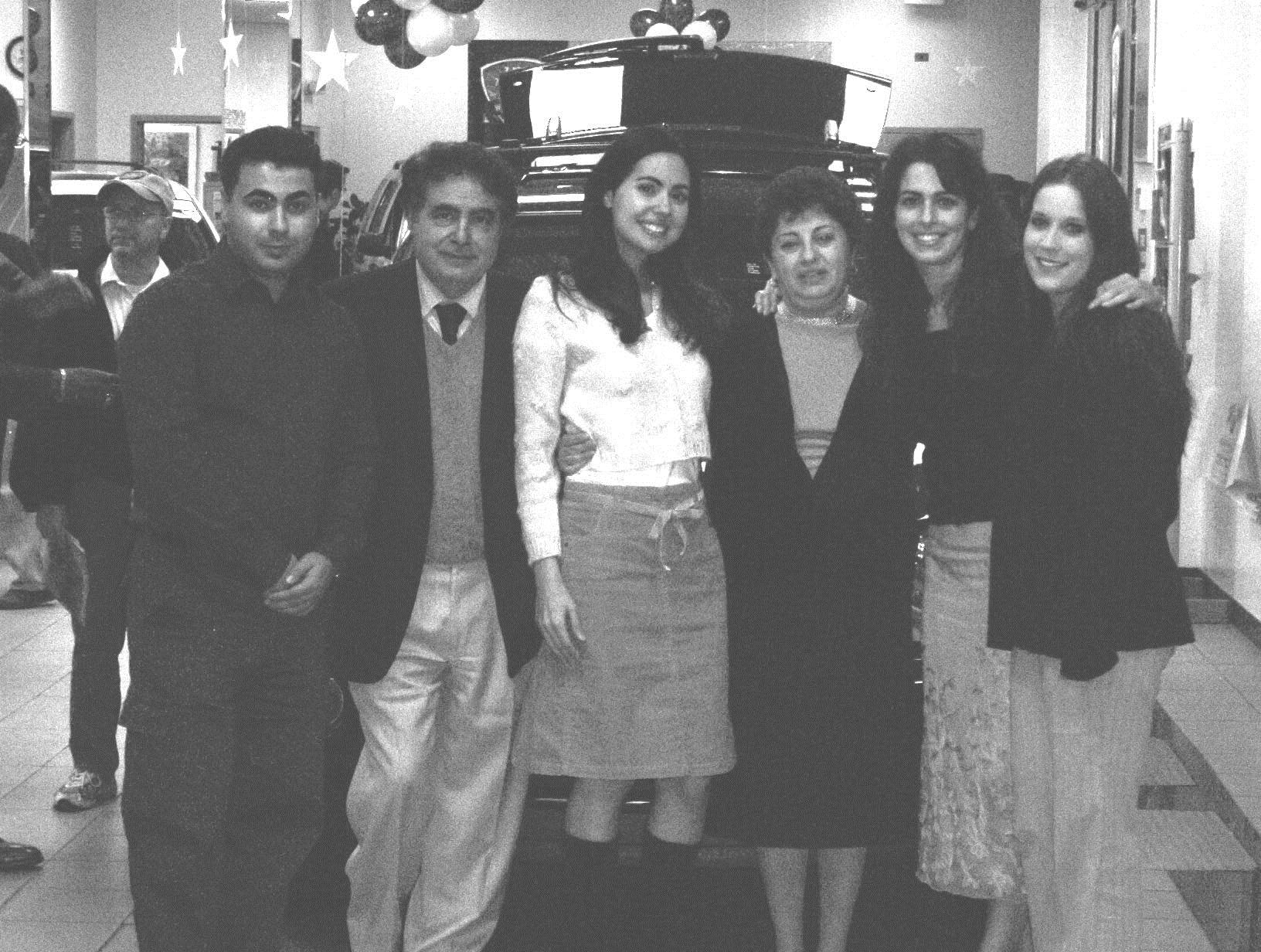 The Larchmont Chrysler Dodge Jeep team and hosts of the October 21 party, from left to right:  Fernando Gulla, Alfredo Gulla, Silvana Gulla, Svetlana Pyatetsky, Eleanor Gulla, and Connie Goldsmith
      "The 2005 product line is the best I've ever seen," said Eleanor Gulla, a general manager at this family-run dealership. "The Grand Cherokee has an all new design, an all new platform and offers improved suspension and handling. Everyone was impressed with the way the new 2005 Jeep Grand Cherokee drove and the new look." Luxury and superior styling set the all-new 2005 Grand Cherokee Limited apart from the competition. An available 5.7-liter HEMI V8 engine with its Multi-Displacement System combines an impressive 330 horsepower with the fuel economy of an engine that knows the difference between cruising and accelerating. The intelligent Multi-Displacement engine deactivates 4 of 8 cylinders when they are not needed to improve fuel economy up to 20%. Calling the Grand Cherokee a "spectacular performer," Steve Wellins, one of the dealership's managers, said that he was impressed with the handling and styling as well as on- and off-road capabilities. The Jeep brand thrives on its reputation of rugged off-road capability and the all-new Jeep Grand Cherokee sets a stunning new standard of performance on the pavement as well. Available on all 4x4 models, ESP enhances vehicle control and stability by countering forces acting on the vehicle to give a steadier, more comfortable ride no matter what the terrain.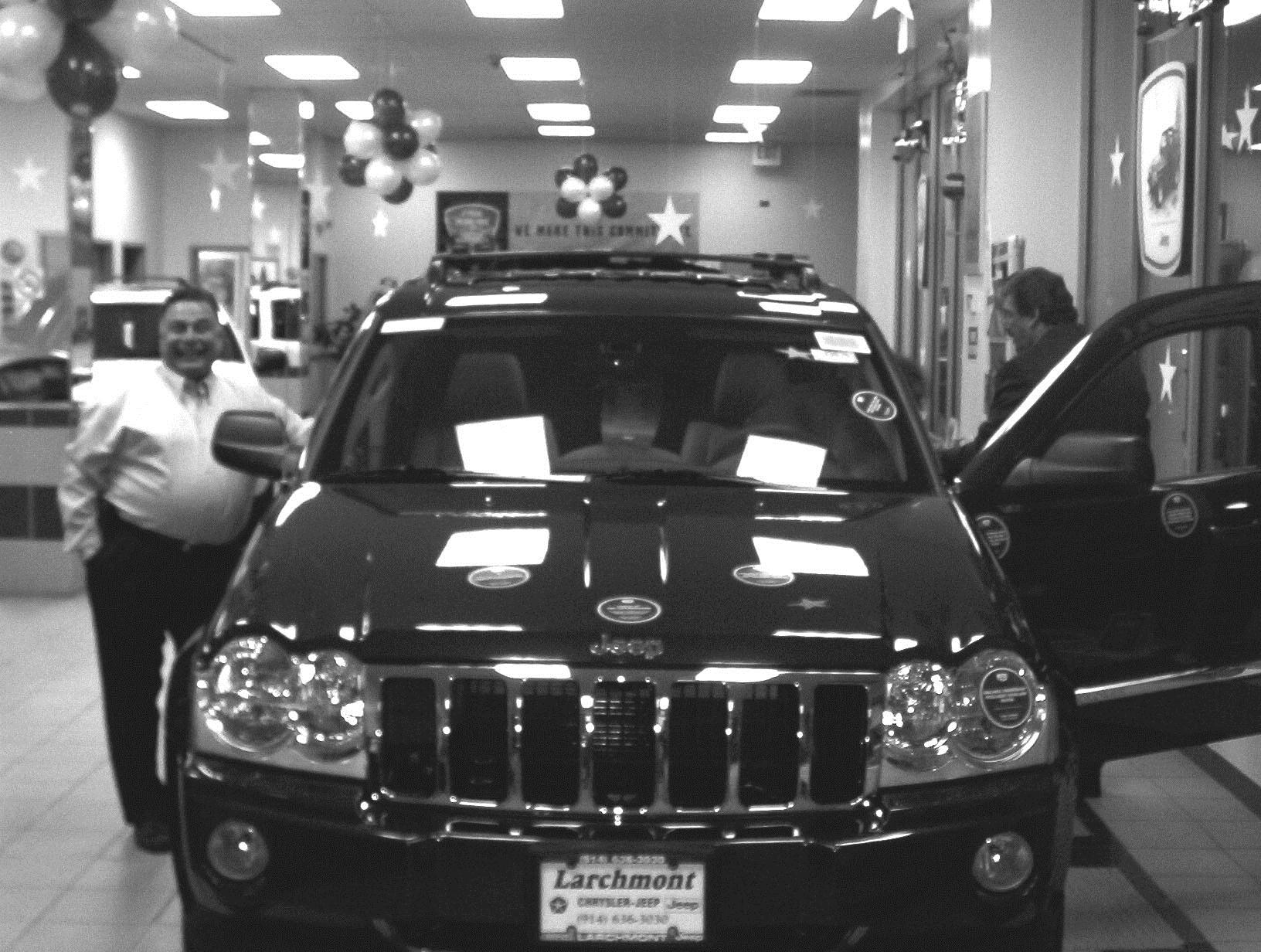 President and Dealer Principal Alfredo Gulla was pleased with the sizeable turnout of customers who came to see the 2005 product line."Chrysler-Jeep really introduced smashing new vehicles. People were very impressed with the demonstrations." Mr.Gulla was happy to see so many of their friends and neighbors, many of them repeat customers, at their festive coming-out party. In addition to the all-new 2005 Jeep Grand Cherokee with available Quadra-Drive II 4WD, leather-trimmed seating and Boston Acoustics premium sound system, the 2005 Wrangler Unlimited with larger interior space and Command-Trac 4WD, and the 2005 Liberty Limited with 3.7-liter Power Tech V6, Oasis Chrome-clad wheels and four wheel disc brakes were also featured during the Jeep Premier Night. Early in 2005, look for the Jeep Liberty 2.8L CRD Common Rail Diesel, an all-new, second generation design that features advanced technology to create a more-powerful, cleaner-running, quieter diesel engine.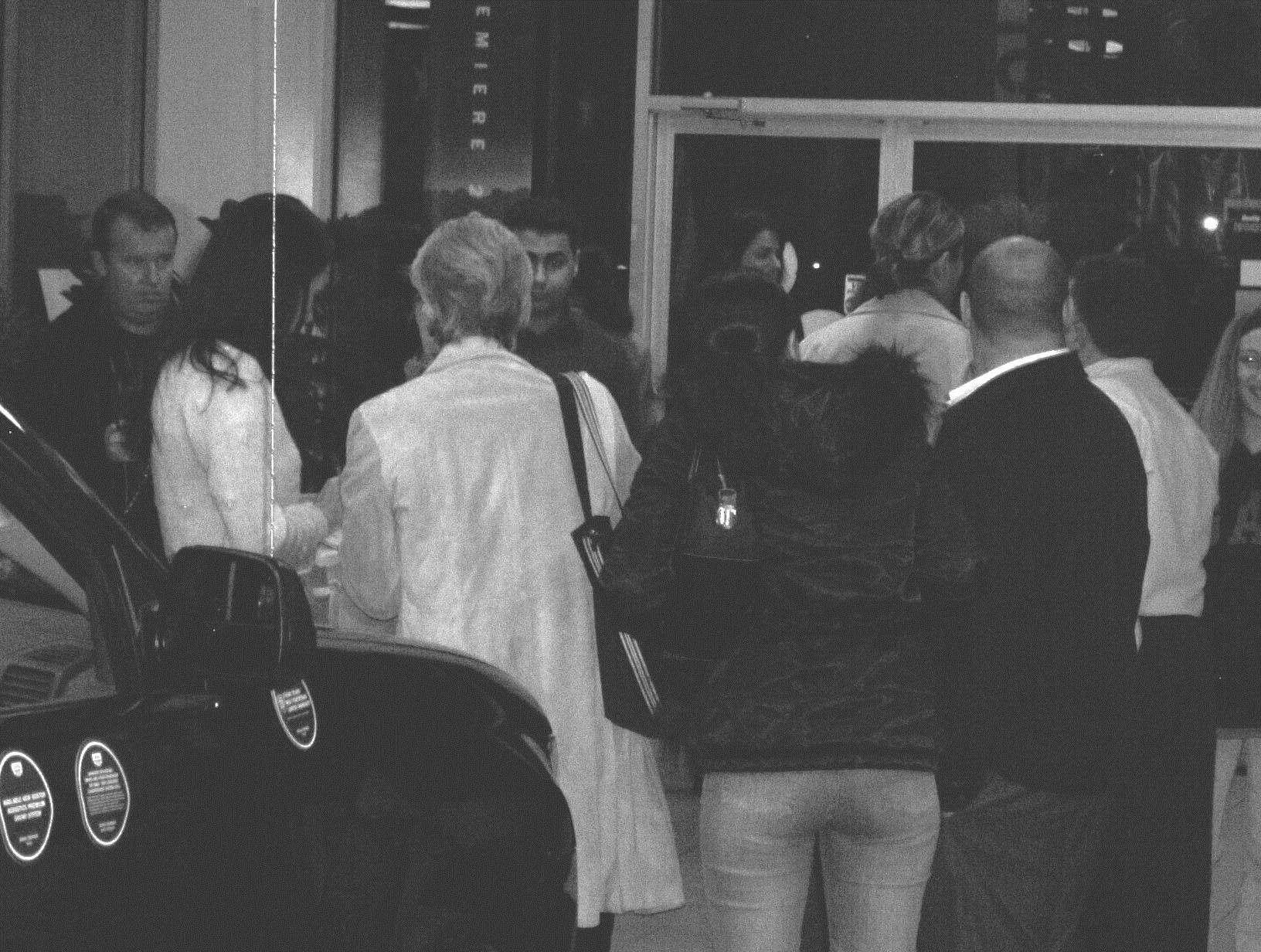 Alfredo Gulla, who began in the auto industry as a mechanic, started the dealership in 1962. The dealership moved to its present location on Boston Post Road in Larchmont in 1996. Featuring a roomy and bright showroom and complete service department, Larchmont Chrysler-Jeep-Dodge has built a solid reputation for terrific customer service, knowledgeable sales personnel and the DaimlerChrysler brand core values. This is the only Chrysler-Jeep-Dodge dealership in Westchester County. Larchmont Chrysler-Jeep-Dodge is honored to be a Five Star Chrysler and Dodge and Truck and Jeep Dealership. The Five Star designation is the highest recognition DaimlerChrysler Motors Corporation can award a dealership for excellence in customer service and is only granted to dealerships that consistently meet Five Star score standards on Customer Surveys. It's their way of acknowledging a dealership's on going commitment to improving the customer's experience, and it's your way of knowing you are going to get the best in product and service.
More About Your Chrysler, Jeep, RAM & Dodge & Used Car Dealership in Larchmont Serving the White Plains & Bronx Area with Auto Parts, Service & Financing

Welcome to Larchmont Chrysler Jeep Dodge! We are proud to be your trusted dealership providing Chrysler, Dodge, Jeep, and RAM cars and services to our customers from New York!
If you have any questions about any of the cars or services we offer at our Larchmont dealership, please feel free to get in touch with our sales team. We are happy to help our customers from the New York area including Yonkers and Bronx to find the Chrysler, Jeep or Dodge vehicle that first their unique lifestyle. At our Larchmont new and used dealership we offer an expansive online inventory of new Chrysler, Jeep, Ram, and Dodge along with well-maintained used cars. Come on in and take a test drive in any vehicle from our new 2017 inventory like the 2017 Jeep Grand Cherokee or any other vehicle sold on our lot! Our sales staff will help you find that new Chrysler, Jeep, Dodge or quality used car that you have been searching for.
You can count on the Finance Center here at Larchmont to be your trusted auto loan and leasing resource. Additionally, within our dealership we office a certified Service Center and Parts Center for our customers who are in need of maintenance, repairs, and accessories for their current Chrysler, Dodge, Jeep, or RAM truck.
Whether you are looking for a Chrysler, Jeep, RAM truck, or Dodge, or a pre-owned vehicle, Larchmont Chrysler Dodge Jeep is here to help. If you don't see what you are looking for, click on CarFinder and simply fill out the form. We will search the greater Bronx, Yonkers and White Plains area and let you know when vehicles arrive that matches your search!
We look forward to your next visit to Larchmont Chrysler Jeep Dodge! You can find our new and used inventory as well as all of our automotive services within our dealership located at 2533 Boston Post Rd serving our customers not only from Larchmont but our customers from Westchester, White Plains, and Yonkers as well! If you have any questions about any of the cars or services we offer please contact us online or give us a call at (877) 769-4268. We look forward to helping you with all of your Chrysler, Dodge, Jeep, and RAM needs here at Larchmont Chrysler Jeep Dodge!