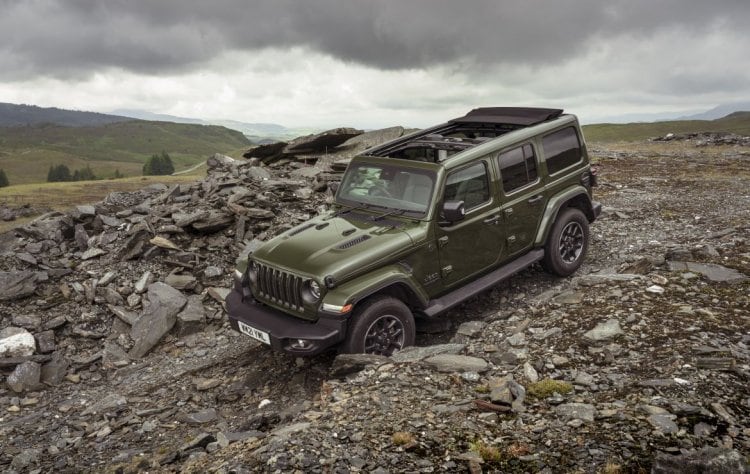 Jeep® is a renowned automobile brand that has created a global legacy. What began as a contract with the US military to produce the first Jeep® vehicle in July 1941 has now, 80 years later, formed into a legacy of its own. Jeep® has progressed fro being a car manufacturer for the US military to being one of the most reputable consumer and military vehicles manufacturers Worldwide, be it providing the consumers with luxurious premium SUVs or provide heavy military equipped jeeps to armies all around the world, Jeep® sure knows how to leave a mark in whichever segment they step in. 
Jeep® has been one of the front-runners for zero-emission future- an idea that can revolutionize the automobile industry. As a celebration of their successful 80 years in the industry, Jeep® has announced its first leap towards a zero-emission future for the vehicle industry. In the form of an all-new Jeep Grand Cherokee with plug-in 4xe hybrid technology, along with a promise of introducing a 100% electric running, zero-emission 4xe Jeep in all SUV segments.
A look at the legacy of Jeep®:
Over the last 80 years, the brand Jeep® has undergone some severe transitions and created several milestones, be it in the form of globalizing the production of its renowned Jeeps and providing both left-hand and right-hand drive vehicles according to the county's regulations or being the first-ever producer of an SUV in the name of a seven-seat Grand Cherokee XJ 1984, the brand has, again and again, proved that it is always a step ahead of its time. Not only is the brand highly innovative and has revolutionized the automobile industry, but it is also highly reliable and consistent with its vehicles' performance. Ever since the start of its era, and as early as 1984, Jeep® has been known for designing sturdy vehicles with a long lifespan, high security, and never go out of demand. One example is Broks Steven designed a Wagon that was in production due to high demand for over 20 years, creating a production record longer than any other American automobile produced at that time. 
Jeep® was also the introducer of the first-ever premium or luxury SUV that we are so accustomed to seeing in the 21st century by introducing the 1963 Jeep Wagoneer. This Wagoneer transformed the image of a four-wheel vehicle. It combined the features of an automatic transmission and the luxurious features that were only found in high-end passenger cars in that era and combined them in a premium four-wheel SUV. In 1945, the introduction of the CJ-2A Jeep also earned the milestone of being the first-ever light-duty four-vehicle drive being able to the general public.
Honor the Jeep® legacy:
If you are a Jeep® lover and wish to honor the Jeep® legacy on their 80th anniversary, visit Larchmont Chrysler Jeep Dodge Ram, Jeep Dealership located in Larchmont, NY and explore through our inventory of New Jeep SUV for sale and Jeep lease deals. Our inventory consists of all unique anniversary jeep additions, such as;
• 2021 Jeep Wrangler 80th Anniversary Edition
• 2021 Jeep Compass 80th Anniversary Edition
• 2021 Jeep Gladiator 80th Anniversary Edition
• 2021 Jeep Grand Cherokee 80th Anniversary Edition
• 2021 Jeep Cherokee 80th Anniversary Edition
• 2021 Jeep Renegade 80th Anniversary Edition